ENTER:
This is Nothing Short of Treason!
As shocking as the CFR plot is, equally upsetting is that President George Bush, Mexican President Vicente Fox, and Canadian Prime Minister Paul Martin met in Waco, Texas, March 23, 2005, and signed a secret pact called the Security and Prosperity Partnership. That pact, prepared by CFR and Bilderberg administrators, sets forth step-by-step what each nation must do to insure the new, merged slave "nation," the North American Union, is fully operational by the year 2010.
Forget about the fact that the U.S. Constitution requires the President to submit treaties such as this to the Senate for a vote. Imperial dictator Bush knows that no U.S. Senator dare utter one word of protest against the CFR Plot. That would be the kiss of death for his or her senatorial career.
CLICK FULL REPORT:
http://www.texemarrs.com/murder_of_america.htm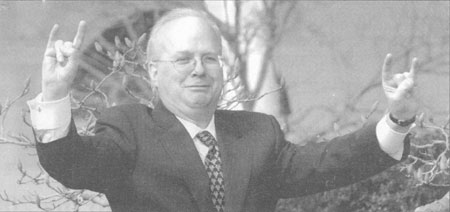 White House strategist Karl Rove is shown here confidently displaying the El Diablo horned devil sign with both hands just after having met with Republican congressmen and giving them their marching orders on the illegal immigration issue. Rove's immediate boss is Joshua Bolton, a Zionist Jew who runs things as President Bush's Chief of Staff. Bolton, alias "Mordecai," speaks fluent Hebrew. His role is to transmit orders from the CFR Jewish elite to Karl Rove, President Bush and Vice President Cheney. Bolton cracks the whip and makes sure the three men stay loyal to the CFR scheme. That scheme is to put Mexico first, end American sovereignty and set up a North American Union to replace the government and Constitution of the "outmoded" U.S.A.
Be aware of the facts, and remember, though the storm clouds gather and the twilight hour is at hand, there is One who is able to lift us up and bring the Adversary to heel. We can cast out fear and face the future with zest and confidence. Jesus, you may recall, said it simply and powerfully: "Only believe."
http://www.texemarrs.com/murder_of_america.htm
===================
Texe Marrs
http://www.texemarrs.com/
Texe Marrs was assistant professor of aerospace studies, teaching American Defense Policy, strategic weapons systems, and related subjects at the University of Texas at Austin from 1977 to 1982. He has also taught international affairs, political science, and psychology for two other universities. A graduate Summa Cum Laude from Park College, Kansas City, Missouri, he earned his Master's degree at North Carolina State University.
As a career USAF officer (now retired), he commanded communications-electronics and engineering units. He holds a number of military decorations, including the Vietnam Service Medal, and served in Germany, Italy, and throughout Asia.
President of Power of Prophecy Ministries and RiverCrest Publishing in Austin, Texas, Texe Marrs is a frequent guest on radio and TV talk shows throughout the U.S.A. and Canada in response to the public's search for greater insight into Bible prophecy, secret societies, the New Age movement, and world affairs. His reference book, NewAge Cults and Religions, is the classic guide to New Age groups while his bestselling books, Circle of Intrigue, Project L. U. C.I.D., and Days of Hunger, Days of Chaos, explain world events and the drive by conspiratorial forces for a New World Order. Texe Marrs monthly newsletter is distributed to tens of thousands of subscribers around the world. His radio program, Power of Prophecy, is beamed to over 125 nations around the globe.
http://www.texemarrs.com/atm.htm